The need for corporate entrepreneurship has become more and more important in order to stay in the game. In reality, corporate organizations are dealing with problems that arise from controlling processes, corporate culture and in-the-box-thinking. How can they overcome these hurdles? How to find a different approach, what's the secret ingredient of startups? Corporate Startup Summit tries to find these answers. Therefore we are introducing particular speakers to give you deep insights about what they do and what they will teach.
Thorsten heads Fraunhofer's accelerator program "FDays (FraunhoferDays)" and is also responsible for the overall Business Design activities provided by the Fraunhofer Venture Lab. He supports researchers in transforming business ideas into business models by pursuing an intrapreneurial path. Moreover, he is working on new interfaces between Fraunhofer and the external ecosystem in order to create strong teams and discover market opportunities based on high-technology.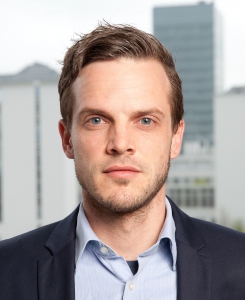 Dr. Lambertus, thanks for having you! What is your first thought when you think about Corporate Entrepreneurship? 

Well, I think it is a hot topic for many corporates and it is great to have a conference like this, which is quite niche to be very honest with you, and where you have the right people trying to find ways to perform their companies and institutions and this is exactly what we are trying to do as well.
As you already taught entrepreneurship at the Economic University of Vienna, what is the single most important advice you can give to your students regarding entrepreneurship?
The most important thing: Give it a try! Especially for students, it's part of your life, where you can do stuff and just give entrepreneurship a try. Found your first company and just figure out, whether you want to build a career upon that or, whether you go to a large corporate or stay an entrepreneur.
As you are now dealing with intrapreneurship at the Fraunhofer Venture Lab, which challenges do you see as the toughest to solve within intrapreneurship projects? 

I think it's definitely the mindset, because when you are entering such a large corporation and you start working as a researcher, it is very different from being an entrepreneur. Now saying you have to change the way you think and how you do stuff, the mindset change is the largest challenge. And this is also the difference to the students, which are quite open minded and eager to learn new stuff and new ways of thinking. You have to break up this researcher mindset.

Why are you participating as a speaker at the International Corporate Startup Summit in Zurich and what do you want to give people on their way? 

I don't think it's just one thing. It's all those small inspirations I get from many people, because all people here are relevant for my job, they are doing similar stuff and they all deal with corporate entrepreneurship. They all have their approach how to deal with challenges and so I get inspiration from many different people and this is the main benefit of such a conference.